Game community app Lobi is growing explosively through collaboration with popular Noah Pass
Game community app Lobi
to collaborate with marketing support tool Noah Pass
KAYAC Inc. (head office: Kamakura-shi, Kanagawa; Representative Director & CEO: Daisuke Yanasawa, hereinafter called KAYAC) announces that the group chat SDK "Lobi Chat SDK" offered by KAYAC's smartphone game community "Lobi - Chat & Game Community (hereinafter called Lobi)" will collaborate with Noah Pass, a marketing support tool developed and operated by SEGA Networks Co., Ltd. (head office: Shinagawa-ku, Tokyo; President, Representative Director & CEO: Haruki Satomi; hereinafter called SEGA Networks).
■Background and purpose of this collaboration
Recently, two of the most important indicators for smartphone game operators are "the number of new users obtained" and "retention ratio of obtained users" in game operation.
Lobi has provided game developers with Lobi Chat SKD* to help them improve the retention ratio by allowing game players to communicate with each other. Through functional collaboration with Noah Pass, we are now able to offer free service to help users obtain new users.
This collaboration reduces some costs to develop games using Lobi Chat SDK while it also reduces some costs for advertisement using Noah Pass. This is expected to enable game developers to focus more on developing games.
*SDK stands for Software Development Kit.
It is a set of tools required to develop software using a certain technology (programming language, API, etc.)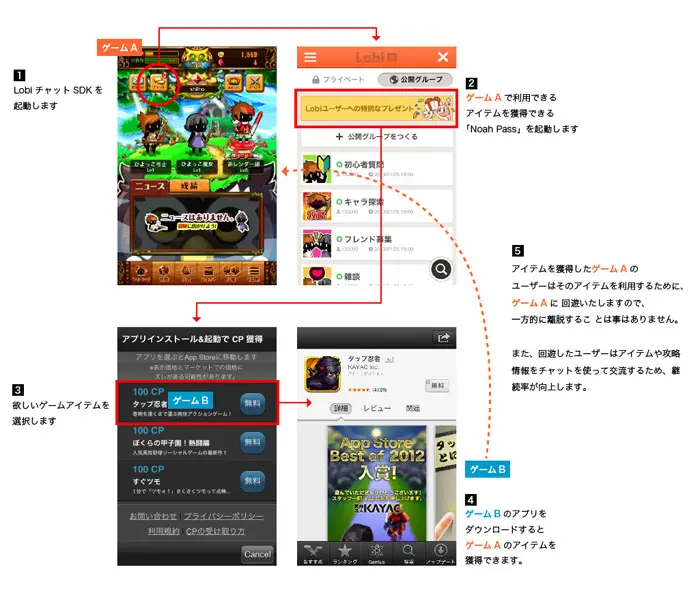 Collaboration details are as follows:
■Overview of business partnership
・Develop "Lobi Chat SDK for Noah Pass" for functional collaboration between Lobi Chat SDK and Noah Pass
・Work together to promote employment of "Lobi Chat SDK for Noah Pass"
・Employ "Lobi Chat SDK for Noah Pass" as communication function in apps for smart devices released by SEGA Networks
・Jointly develop functions to support game development
■How to get "Lobi Chat SDK for Noah Pass"
Download "Lobi Chat SDK" from Lobi SDK website
Implement "Lobi Chat SDK" in relevant app
Notify Lobi Chat SDK office of your intention to employ Noah Pass
Conventional Lobi Chat SDK (free edition/enterprise edition) will continue to be available for users who do not want Lobi Chat SDK for Noah Pass.
■ Key dates
Business to be launched on: October 1, 2013
■About Lobi and Lobi Chat SDK
As a communication app using positional information, it was released in December 2010 at App Store and Google Play. In order to provide smartphone game developers with a chat function, an SDK for developers became available for free in 2012. It is a community for interaction among game players and more enjoyable game experience. It offers open chat in which game players can exchange strategy information and call for friends as well as Guild Chat where specific game members can develop strategies together.
Lobi network boasts a total of 8.5 million accounts as of September 2013. More than 40 companies in Japan have employed Lobi Chat SDK and over 75 apps have been released.
◎Games that have implemented Lobi Chat SDK only partial list
This is not a list of games that use Lobi Chat SDK for Noah Pass.
Chain Chronicle (SEGA Corp.)
Kaku-San-Sei Million Arthur (Square Enix)
Bound Monsters (Bushiroad Inc.)
Atsumete! Hello Kitty no koisuru ribbon (SANRIOWAVE Co., Ltd.)
Homoo Ijiri (Applica)
Majimon (NHN PlayArt Corp.)
Boken Quiz Kingdom (KAYAC Inc.)
Magical Girls War (xeen Inc.)
Ultimate Training * Battle of Angels (FURYU Corp.)
Kizuna no Gango (GIRAFFE Inc.)
■About Noah Pass
Noah Pass is a marketing support tool for smart devices offered based on the concept of delivering superior smart device content to more game players, which is SEGA Networks' business policy. It generates opportunities for players to discover new content for smart devices through banner display and offers. It is available for free. Employed by 30 companies as of September 20, 2013, Noah Pass has hit 25 million downloads.
[Overview of Lobi]
URL:http://lobi.co/Download:App Store
https://itunes.apple.com/jp/app/nakamappu-wu-liaonomeru-chatto/id405548206?mt=8
Google play
https://play.google.com/store/apps/details?id=com.kayac.nakamapDevices:iOS and Android smartphonesOS:iOS4.3 or higher, AndroidOS2.2 or higherApp price:Free (partly charged)