FunCreate launched "GAZAR", a game communitiy service in Myanmar. KAYAC is in charge of planning and production!
January 26, 2021 - KAYAC Inc. (head office: Kamakura-shi, Kanagawa; Representative Director & CEO: Daisuke Yanasawa; TSE Mothers: 3904) today announced that the company was in charge of the development and part of planning of "GAZAR" (for Android device) , a new game communitiy service that FunCreate (hereinafter FC) located in Singapore, released in Myanmar through a subsidiary.
「Gazar」URL:https://play.google.com/store/apps/details?id=co.funcreate.jade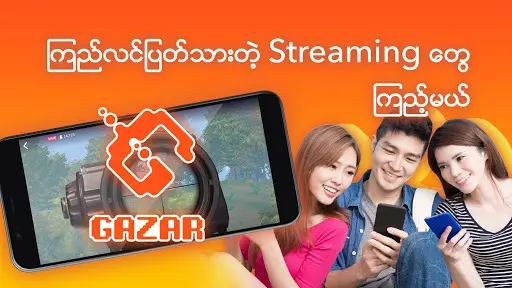 "GAZAR" is a live streaming platform specialized for mobile device in Myanmar.
People can enjoy watching live streamings including professional gamers, checking game stragegies and others.
GAZAR Introduction
Registration
Easily register by linking Facebook account. Since Myanmar game users are active in communication by using Facebook, we mainly prepared Facebook linkage.

Live streaming
Everyone can do the streaming. Game live streamings by Myanmar's famous game streamers are being held every day, users can enjoy their favorite streamer's live. Viewers can communicate with streamers interatively while watching the live, and can also support the streamers by sending gifts during their lives. Comments can be sent freely, by this, users can take the communication with streamer and other viewers.

Strategy article
Lots of walkthrough videos and articles of popular games are being uploaded, which users can easily find the information that they care about. Also, users can leave comments on each article, can freely post videos and articles, and communicate with other users.
GAZAR Overiview
Background of the launch of "GAZAR"
FC started a mobile game publishing business in Federal Republic of Myanmar in April 2019, through its subsidiary "FUNCREATE MYANMAR LTD." (FCM) in Myanmar. While operating the business at FCM, they recognized that there is a strong need for community services that young game lovers can enjoy, so decided to launch this service.
On the other hand, KAYAC has accumulated various know-how while operating the tournament platform "Tonamel" in Japan and one of the largest game communities in Japan for more than 10 years.
In order to quickly launch and expand the one and only game community service in Myanmar, FCM has formed a strong partnership with the top-level e-sport team, well-known influencers in Myanmar's game industry, and develop and operate "GAZAR".
In Myanmar, which has a population of about 54 million, the penetration rate of mobile exceeds 100%, and more than 70% are using smartphones. With the development of the mobile phone market, the mobile game market is a field that is expected to grow significantly in the future, and with this service aiming for more than 1 million downloads, we together with FCM expect a unique game community service with young people geting gather in Myanmar.
FUNCREATE PTE LTD. Company Profile
| | |
| --- | --- |
| Company name | FUNCREATE PTE. LTD. |
| URL | https://funcreate.co/company/en/ |
| Location | Singapore |
| Established | November 22, 2018 |
| Representative | Managing Director Seiichi Sekino |
| Business Content | Mobile game business (planning and development) |
| Shareholders | Joint venture between shareholders KDDI CORPORATION and Sumitomo Corporation |
KAYAC Inc. Company Profile
Fun-Loving corporation KAYAC, provides users with new experiences that combine the latest technology and ideas, including the creation of game apps, advertisements, and websites, with the strengths of creativity, planning, and technological capabilities that are not bound by stereotypes. About 270 people, 90% of the employees, are creators such as designers and programmers. We carry out management rooted in the region and a unique personnel system that makes the most of diversity based on our corporate philosophy of "Create more creators."
| | |
| --- | --- |
| Company name | KAYAC Inc. |
| URL | http://www.kayac.com/ |
| Location | 11-8 Onarimachi, Kamakura City, Kanagawa Prefecture |
| Established | January 21, 2005 |
| Representative | Daisuke Yanasawa, Masanori Kaihata, Tomoki Kuba |
| Business Content | Japanese interesting content business |