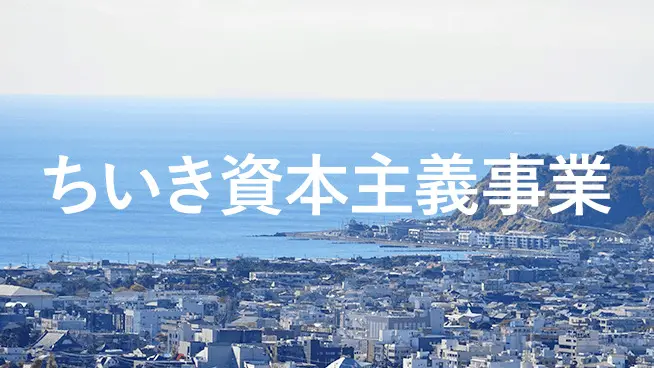 Regional Capitalism (Community Development) Business
Making sustainable community development a shared concern
The word "chiiki" (meaning region or regional) in name of the Regional Capitalism Business Division in Japanese is written in hiragana rather than kanji in order to express its approach to "developing a region" in addition expressing its promotion of regional capitalism.
We believe that instead of focusing purely on economic rationality, if each region becomes more unique based on a diverse set of values, and is open to everyone, then people could select regions which are suited to their own lifestyles, and this would allow people to lead richer (more affluent), more fulfilling lives.
The Regional Capitalism Business Division helps people involved in the region to think of community development as a shared concern in which they have a stake by utilizing KAYAC's creative capabilities and experience carrying out community development in Kamakura to resolve a variety of issues facing various regions, including limited environmental resources, depopulation resulting from the aging population and declining birthrate, business continuity, and more.
The division provides local administrations, businesses, and other clients with a variety of services, including community currency which helps build connections between people and affinity for a community/region, relocation support to help individuals find lifestyle that suit them, operation of business startup support locations to help cultivates entrepeneurs beloved by their region, and more.
What is regional capitalism ?
We believe that a region has 3 types of capital, regional economic capital, regional social capital, and regional environmental capital. It is important to pursue not only economic affluence, but also to utilize connections between people and communities, nature, history, culture, and a variety of other appealing points to create a unique regional affluence. In addition to GDP, we hope to create indexes to measure these types of regional affluence and define new forms of affluence and happiness.
Using connections between people as a measure of a region's affluence
Regions with rich and substantial (affluent) relationships between people and active and lively communities are appealing. However, there was no standard or means for measuring these factors. In respons,e KAYAC has created two approaches to quantifying these relationships between people.
The first is the "Machi no Coin" community currency service. The circulation of the coins can be used to visualize connections between people and community activity.
The second is the "Internet Related Population Score (https://smout.jp/popscore) from relocation scouting service "SMOUT". This score is calculated by using proprietary algorithms to evaluate people who have an interest in or are involved with various regions on the Internet.
The creation of these two methods of measurement have made it possible to identify regions with rich relationships between people and the region as well as people are interested in a given region. We believe that by quantifying these elements, we can further increase and improve these connections by getting more people actively and personally invovled.