To Fun-loving Shareholders
We have called ourselves a fun-loving corporation since the company was founded. This term "fun-loving corporation" is based on three desires.
The first is that we become an "enterprise that has fun" where it is fun to work. The next is that we are a "fun enterprise" that people around us call fun. The final idea is that we are a "fun-creating enterprise" that increases the number of people having fun.
We think of all sorts of ideas to achieve these desires. Coming up with lots of ideas means increasing the number of ways you look at things. Instead of looking at things a single way, we look at them from many perspectives.
If we come up with lots of ideas like this, we are able to "have fun" even if we are in a situation that we don't find to be fun. The line, "People with ideas are never serious" is a phrase often used within KAYAC.
Also, changing the way we look at things is not only fun for us, but also leads to innovation. Through many brainstorming sessions, KAYAC has created unique businesses and internal systems that are called fun.
We would like you, our fun-loving shareholders, to enjoy your lives more by being involved with KAYAC and experiencing the atmosphere here.
In addition to having fun, we would like you to join us in making the world a more fun place by sharing ideas about actual innovation such as how KAYAC can become a better company, how it can grow more, and how it can better contribute to society.
That is the thought behind what we like to call "fun-loving shareholders." The general meeting of shareholder held once every year also includes time for brainstorming with KAYAC employees.
We ask for your continued support of the fun-loving corporation KAYAC in the future.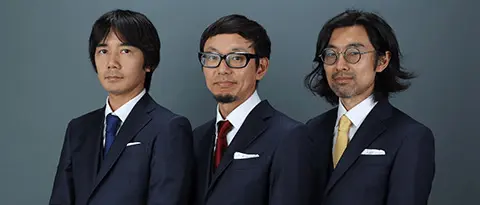 Representative directors of KAYAC, the fun-loving corporation
Masanori Kaihata, Daisuke Yanasawa, Tomoyoshi Kuba
Fun-loving shareholder system
The fun-loving shareholder system is a system for working with shareholders to create a fun-loving corporation. We announce new measures at every general meeting of shareholders.
The 9th is fun-loving shareholder's feedback

We receive feedback from our shareholders once a year to make our "fun-loving corporation" more fun-loving, and disclose the results to the public.
---
The eighth is to hold Online Shareholder Meetup

We will hold the "Online Shareholder Meetup" as the eighth of the fun-loving shareholder system. We hope that shareholders will be able to communicate with each other regardless of distance, working hours, or various circumstances.
* The event was canceled because the number of participants was less than the minimum number of participants.
---
The seventh was to prepare fun-loving shareholder seat in the board meeting

There is a company that has prepared one vacant seat on the premise that a customer is sitting at an important meeting so that they do not forget the customer's viewpoint. Therefore, we will also prepare "Fun-loving shareholders seat" in the board directors' meeting so as not to forget shareholders' views. "Fun-loving shareholder doll" sits at the seat. The doll's face is the "shareholder average face" created by collecting photographs of shareholders.
---
The sixth was to hold an offline shareholder meeting

We will hold a meetup for Kayac shareholders to interact. We hope that interaction among shareholders, who are essential members of KAYAC, will create ideas that will make the world more exciting and will trigger new initiatives.
---
The fifth was to present Manga business cards to shareholders

We will present Manga business cards used by Kayac employees to our shareholders. We plan to prepare several patterns for business card titles and designs, such as "fun-loving shareholders," "fun-loving shareholders in charge of recruiting," and "fun-loving shareholders in charge of advertising."
---
The fourth was the nationwide investor briefing bullet train caravan tour

We want to visit Fun-loving shareholders all across Japan and explain KAYAC's business and performance. We want to discuss with our shareholders how KAYAC can grow into a better company that contributes to the society.
KAYAC President Yanasawa will travel all around Japan and hold briefing sessions for personal investors.
---
The third was the company-wide semiannual camping for shareholders

KAYAC holds a camp called the "everyone's the boss camp" where all employees leave the workplace and pretend to be the company president to conduct brainstorming to share ideas about KAYAC's systems and visions for the future.
Applying the same concept, we will provide opportunities for KAYAC employees and shareholders to conduct brainstorming and think about the future of KAYAC as the third part of the fun-loving shareholder system.
---
The second was the Shareholder HR Department Operation

Due to its "We're All HR Directors" all KAYAC employees belong to the HR Department and conduct recruiting activities. We though shareholders could also consider and introduce people that are essential for KAYAC in a similar way.
If a person referred to us joins the company, the shareholder is given 39 (san-kyuu) Hato Sabure cookies as our way of saying thank you.
---
The first was the Shareholders Council

The Shareholders Council is a limited community that only fun-loving shareholders can view and participate in.
It includes a brainstorming function for shareholders to brainstorm about KAYAC, and a survey function for receiving opinions from shareholders.
Dividends
Introduction
We started by briefly summarizing the general mechanism of dividends. Then we described our approach to dividends at the fun-loving corporation KAYAC. Please skip over the first part if you understand how dividends work.
How dividends work
A stock company is an organization created based on the principle of shareholders investing capital and the company returning profits to shareholders. That is, it is normal to have dividends if the company makes a profit.
On the other hand, there is also the view that using profits for investment to improve the company's performance will provide better returns to shareholders than dividends. In venture companies expected to grow quickly, it is not uncommon to use profits for investment instead of dividends.
However, this could result in no money being returned to shareholders who invested in the company. That is why there is a share price representing the current value of the company. Even if dividends do not increase, if the share price increases, shareholders can secure a profit through capital gains by selling the shares they hold on market.
This is why, particularly in venture companies, the share price generally increases when dividends are not paid and decreases when they are paid.
Approach to dividends at the fun-loving corporation KAYAC.
As mentioned in the "Request to fun-loving shareholders", we believe that shareholders are our colleagues in building KAYAC.
That is why we think of ways to encourage our shareholders to hold their shares as long as possible and grow together, and want to be able to grow together.
Increasing the share price and receiving capital gains is naturally your right, but if you sell your shares, your relationship with KAYAC will be lost.
We would prefer that our relationship is as long as possible, and because of this we believe a dividend policy of actively paying dividends would be good for KAYAC.
We will clearly define the approach taken by the fun-loving corporation KAYAC, and seriously decide how not to harm shareholder value each time based on our situation and the conditions surrounding us.
We ask for your continued support of the fun-loving corporation KAYAC in the future.