City of Kamakura Is Starting the Operation of "SDGs Tsunagari Point Project" Using the Community Currency - "Our Town Coins".
Rress Releases
We, KAYAC Inc. (head office: Kamakura-shi, Kanagawa; Representative Director & CEO: Daisuke Yanasawa), are announcing that a community currency service - Our town Coins, which we developed and providing, has been introduced to "SDGs Tsunagari Point Project" in Kamakura city. It started the partial registration from January 5th (Tuesday), and full operation of the point among all Kamakura from January 19th (Tuesday).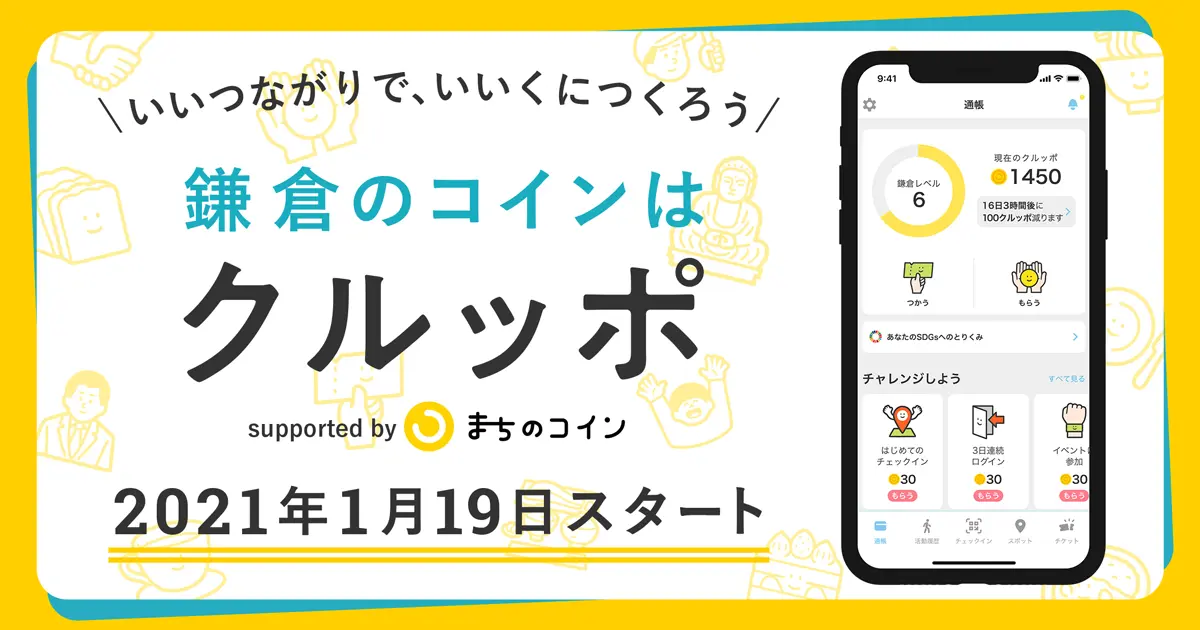 Project Background: Promoting Relevance of SDGs and "Co-creative" Community Construction with Citizens and Business People
This project is launched by Kanagawa prefecture to achieve SDGs through activating the region and promoting relevance of SDGs by encouraging residents, shops and business people's direct/indirect participation utilizing the community currency (=regional e-money) service, "Our town Coins", developed by KAYAC.
City of Kamakura has, not only been chosen as one of "Future City of SDGs" by the country in June 2018, been taking initiatives to achieve SDGs such as reflecting its idea into the 4th Period Basic Plan of the 3rd Comprehensive Plan for the city. A 4-week demonstration experiment for the project has been conducted in the area around Onarichou, Kamakura-shi between November 21st – December 18th, 2019. Inside the experiment, participants were able to achieve and use the points through activities such as reduction of plastic garbage or food-loss, and it has become an opportunity for them to enjoy activities for SDGs and make SDGs more personal for them.
On the other hand, currently continuing expansion of Covid-19 has giving a big influence on regional economy of Kamakura, especially to restaurants. Many citizens wish to cheer up the local economy and are making actions to support those business people. Some of the volunteers are creating a map for restaurants providing to-go services, and we, KAYAC, are putting it up on our company website. "Our Town Coins" are considered to be useful for creating a such connection between citizens, local shops and business people, and the city has decided its introduction.
Project Overview
Starting Date: January 19th, 2021 (Tuesday)
Where to Use: Shops in Ofuna area, around Kamakura station and in Koshigoe area of Kamakura city
How to Use: Download "Our Town Coins" app from App Store or Google Play and select "Kamakura" as displaying region from January 19th (Tuesday)
Recruiting for "SDGs Tsunagari Point" Spots (=Member Shops or Organizations) Started
From January 5th (Tuesday), we have started recruiting spots (=member shops or organizations) where "Our Town Coins" will be introduced. It's free, and you will be only needing to download the app for spots to your smartphone and creating "Tickets" explaining how to achieve and use the points in your place. It can promote your shop and create fans, so please feel free to ask us anything if you are interested.
Contact: regional-info@kayac.com