Japan's largest dedicated gaming/e-sports facility "REDEE" opens in March 2020!
Rress Releases
Redhorse Corporation, the dedicated agency DENTSU, KAYAC subsidiary Well Played, an e-sports-focused company involved in the planning/operation of e-sports tournaments to pro player management, and Next Group Holdings, which develops nationwide platforms supporting youth education and their future design, have collaborated to open Japan's largest dedicated gaming/e-sports facility "REDEE" in EXPOCITY, Suita, Osaka on March 1st 2020.
Together with the flourishing of current overseas e-sports markets and the acceleration of related businesses, e-sports has given rise to a plethora of Japanese pro gamers as well as seeing companies from not only the gaming industry but from various other industries entering the e-sports market one after another. A survey of "Children's dream jobs" saw "pro gamer" coming in 2nd place and "game streamer" in 3rd, putting them in the spotlight as new professions. In 2019 the world e-sports market size was JPY 109,6 billion and is predicted to increase to JPY 155,3 billion in 2022. In addition, e-sports was selected as a demonstration event at the 2018 Asian Games, indicating that it has the potential to be included as a future Olympic game and is expected to have even further market growth.
The opening of "REDEE" will accelerate the flourishing of e-sports markets in both Japan and overseas.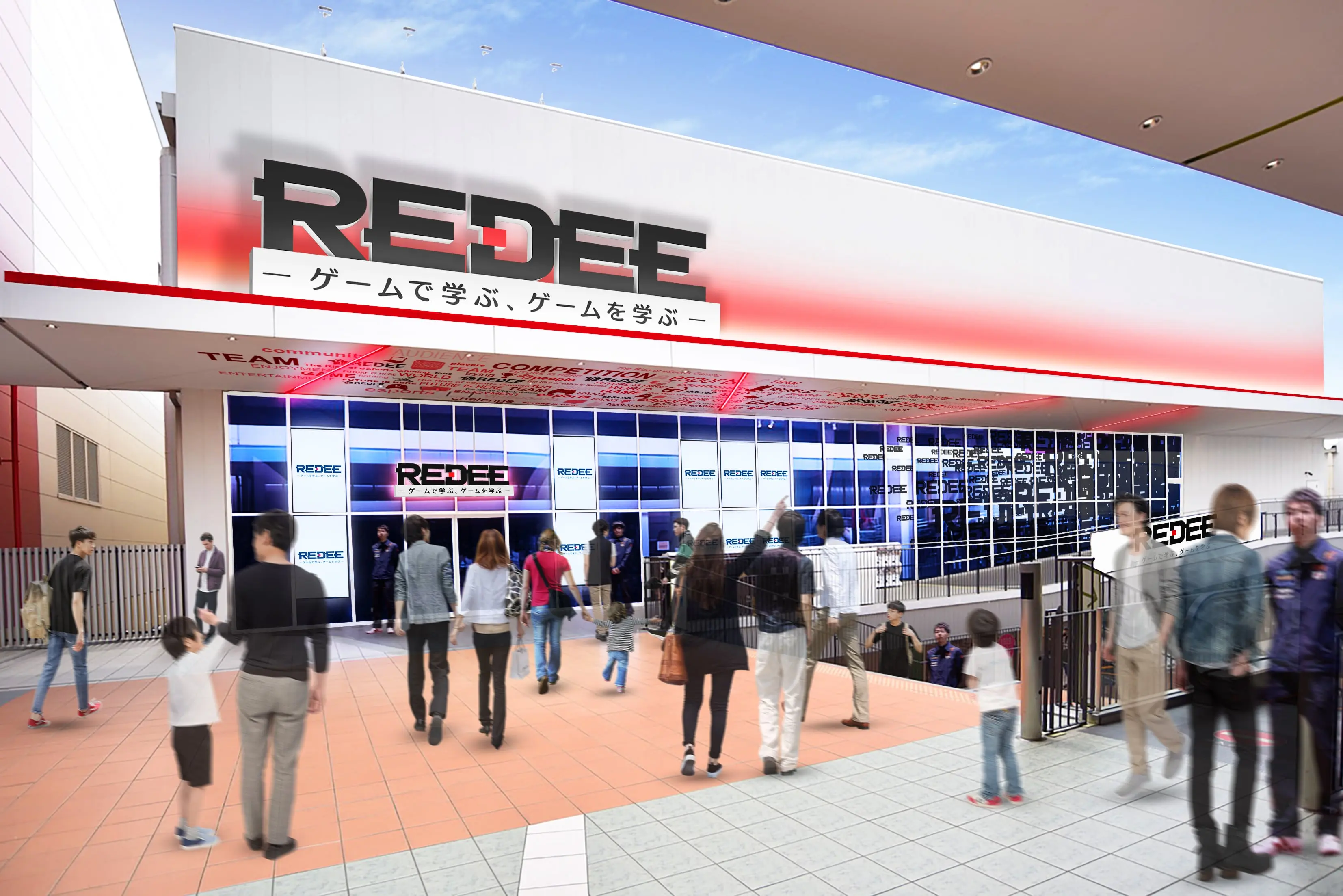 The "REDEE" concept
"REDEE" is a facility where children can acquire wide-ranging knowledge and skills through games. It nurtures game interaction, communication with others from different backgrounds, and technological knowledge. Derived from a word "Ready", it combines the "Red" of Redhorse and the "e" from e-sports and education which are the concept of the facility.
The "REDEE" logo is made up of game blocks. The action of "stacking" small blocks symbolizes the action of "learning." There is "fluctuation" in the logo. The "fluctuations" of an uncertain future creates worry and restlessness but simultaneously stimulates the creativity and vitality to live a vibrant and strong life. "REDEE" is a place where you "learn" and "prepare" for living in this uncertain future.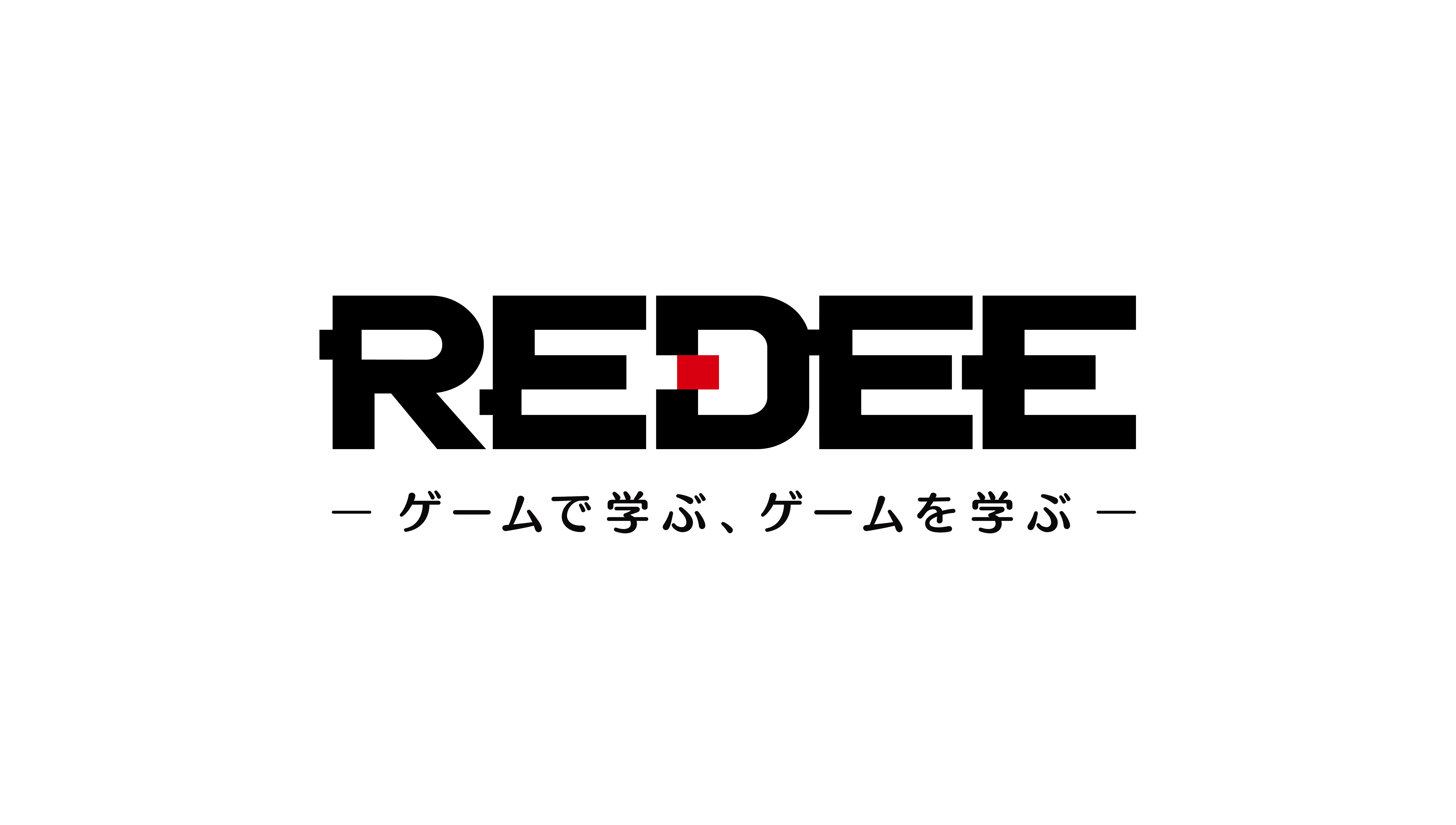 "REDEE" overview
Located next to the Osaka Senribanpakukoen in the verdant Hokusetsu region, REDEE will open in EXPOCITY, Japan's largest leisure and shopping complex.
| | |
| --- | --- |
| ** Official name** | 「REDEE WORLD」 |
| Location | 2-1 Senribanpakukoen, Suita, Osaka 565-0826 |
| ** Access** | 2 minutes walking distance from Osaka Monorail "Banpaku-kinen-koen Station" |
| ** Opens** | Match 1st 2020 (Sunday) |
| Area | 4816 sq m |
| ** Operating company** | Redhorse Corporation, DENTSU, Wellplayed, Next Group Holdings |
Facility features
Feature 1: Japan's largest dedicated gaming/e-sports facility
REDEE is the Japan's largest facility with all sorts of gaming/e-sports-related equipment such as event venues, playing areas, streaming areas, and VR devices. It allows people of all ages and backgrounds to enjoy multifarious experiences that tickle their intellectual curiosity through games.
Feature 2: permanent event venue equipped with a gigantic screen
REDEE allows the hosting of world-class gaming and e-sports events in Japan, boasting venue facilities with all kinds of permanent equipment needed for gaming and e-sports production and streaming. The facility can be used for game tournaments held by game publishers, community-held tournament scenes, and various offline events.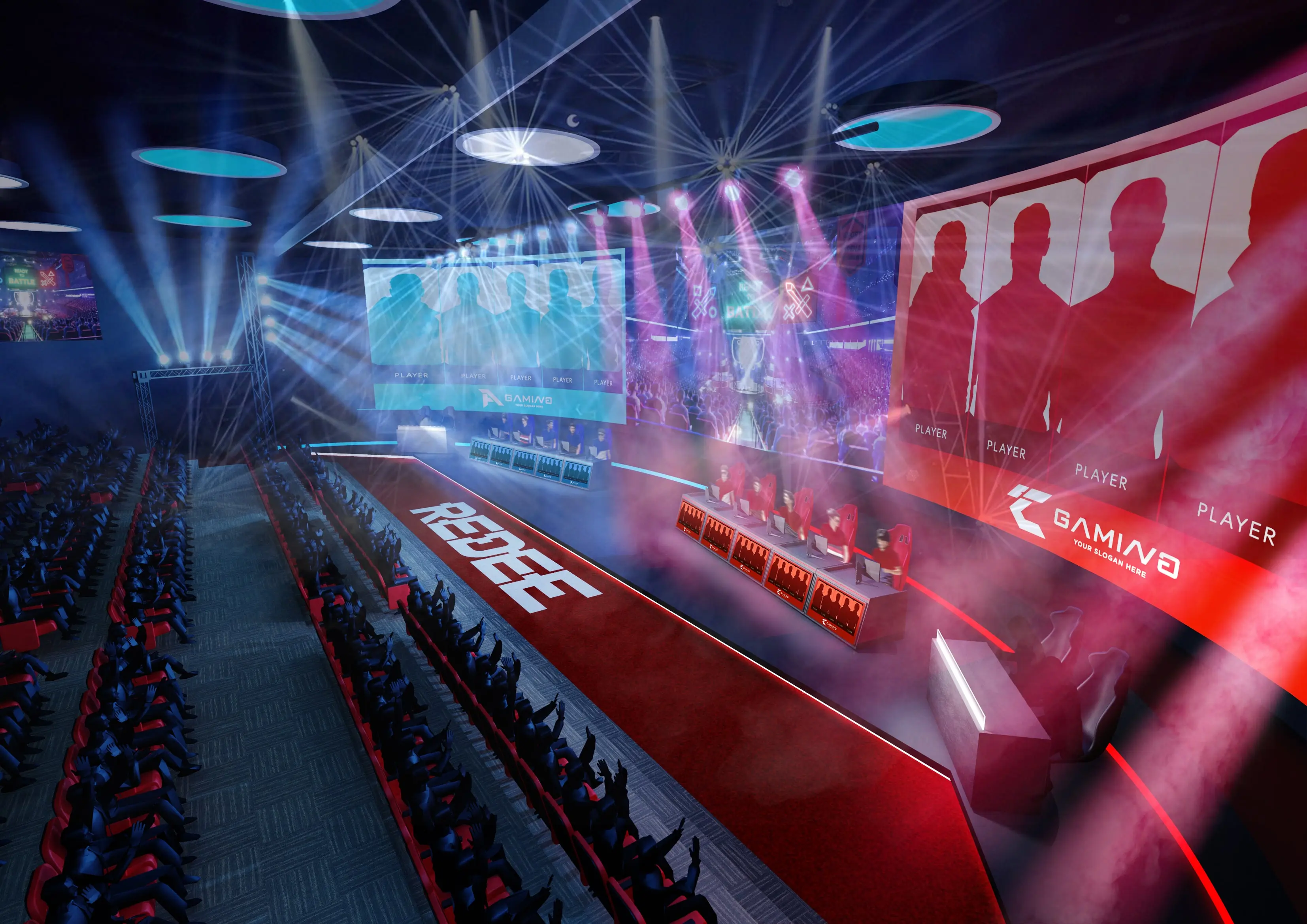 Feature 3: a place for "learning" gaming/e-sports
Using gaming PCs and classrooms inside the facility, REDEE provides contents for learning gaming and e-sports where people can acquire a wide range of knowledge including computer science through the experience of playing. The facility offers inquisitive children new learning opportunities with learning contents using cutting-edge terminals and technologies.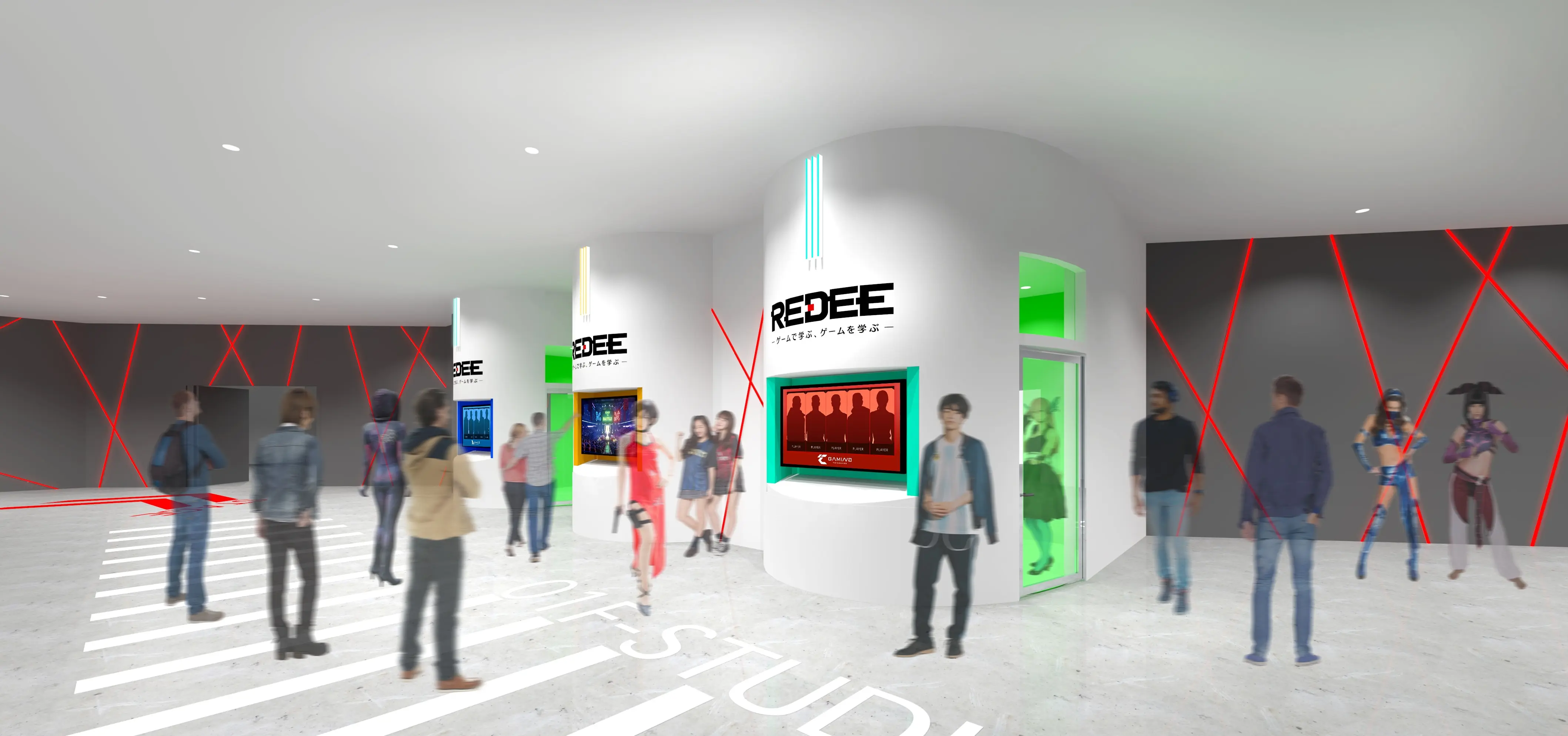 Redhorse Corporation
https://www.redhorse-corp.co.jp/aboutus/outline/
For over 50 years from its founding in 1964, Redhorse Corporation has expanded their travel-related souvenir business and, with the concept of "regional revitalization through travel", is developing a Hometown Tax Support business for local governments in the Japanese market. In addition, they have also started a disaster prevention business utilizing local government and regional company networks they have built up until now. Through their numerous businesses including travel service business, gift business for corporate customers typified by shareholder incentives and promotions, store business developing stores in airports and adjacent to passport centers, and fulfillment service business handling customer service businesses and distribution in their other businesses, Redhorse are developing various services to provide customers even higher degrees of convenience.
Getting listed on the Taipei Exchange in 2016 and increasing their presence in greater China, Redhorse is aiming to become a company that can deliver ever more value in the Asian markets.
Wellplayed, Inc.
https://wellplayed.jp/about/
Wellplayed, Inc. engage in the planning, operation, video production, and streaming of events and tournaments in all kinds of genres to transform gameplay and game watching as a single form of entertainment. They also support and manage players aiming for the world stage, providing spaces where publishers, players, and viewers can get excited and moved over a same game. In addition, they are developing the dedicated e-sports media "WELLPLAYED JOURNAL" that focuses on the support and management of ambitious players as well as the players themselves.
Next Group Holdings, Inc.
https://next-group-hd.co.jp/
Next Group Holdings, Inc. is a company developing in various regions offline platforms tailored to youth. By operating spaces that youths of that time and region are most interested in, they continue to form communities with over 5000 members each month (as of April 2019). Systematizing the unique knowhow that the group has cultivated until now, they will continue to pursue their own unique originality, aiming for long-term and continuous contribution to peace and prosperity of this society.