KAYAC submits patent application for new technology regarding artificial neural network! Also establishing KAYAC AI Team for research and development of artificial intelligence!
Rress Releases
KAYAC Inc. announces that it has submitted a patent application for new technology to realize distributed computation of neural network using only perceptrons, the smallest building block of the network to which an enormous number of artificial intelligence (AI) perceptrons are connected. At the same time, KAYAC has established KAYAC AI Team for research and development of AI.
Activities of KAYAC AI Team
In recent years, development of AI technologies are expected to bring transformation in diverse areas. Conventionally, use of AI has required two kinds of investments: investment into collecting big data to allow AI to process and learn data, and investment into hardware that processes big data. KAYAC AI Team reduces the two investment burdens and offers technologies that become a platform for developing new solutions for enterprises and individuals that have had difficulties using AI. KAYAC will contribute to building a better society by enabling its philosophy "Create more Creators."
About technology under patent review
"The technology under patent review breaks up an artificial neural network into perceptrons and performs the same process (calculation) repeatedly with different values, running the same function of conventional artificial neural networks in the smallest memory space. This will reduce investment burdens such as expanding infrastructure and hardware.
The same function available for artificial neural networks can be built for smartphones and other hardware devices to compute the same results as conventional AI."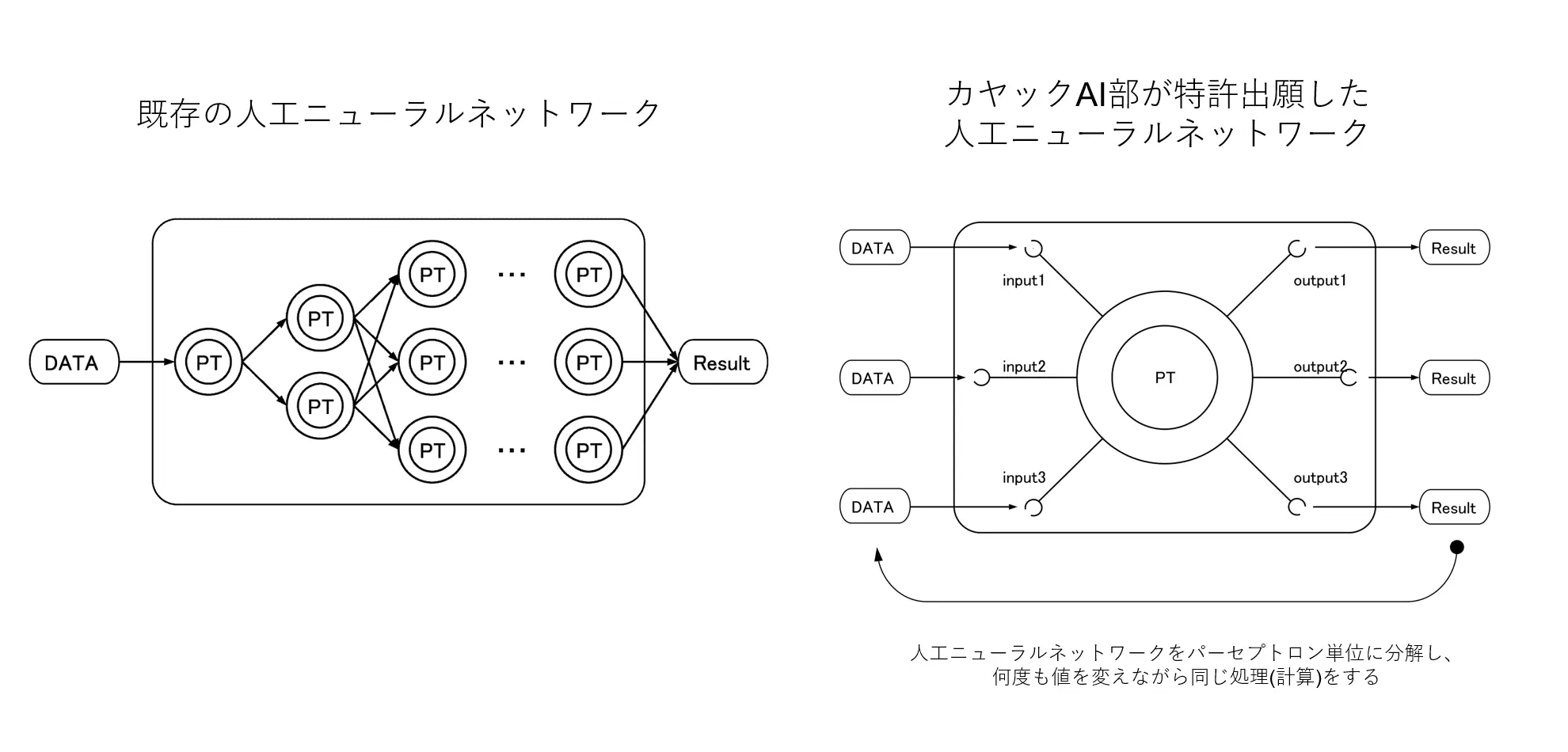 Overview of KAYAC
| | |
| --- | --- |
| Company name | KAYAC Inc. |
| URL | https://www.kayac.com/en |
| Location | 2nd Floor, Kamakura Syunjyu Square, 2-14-7 Komachi, Kamakura-shi, Kanagawa, 248-0006 Japan |
| Established | January 21, 2005 |
| Representative Directors | Daisuke Yanasawa, Masanori Kaihata, Tomoyoshi Kuba |
| Our business | Fun-loving creative business |