KAYAC Inc. Released Its New Game 'POCKET FOOTBALLER' Outside of Japan
KANAGAWA, Japan- Japanese company KAYAC Inc. today announced the international release of the smartphone game 'POCKET FOOTBALLER'. Initially released only in Japan on the 13th of August, the game is having a great success on both the Google Play Store and the Apple App Store. 'POCKET FOOTBALLER' will now be available to download in more than 60 countries, and 10 languages will be supported within the game.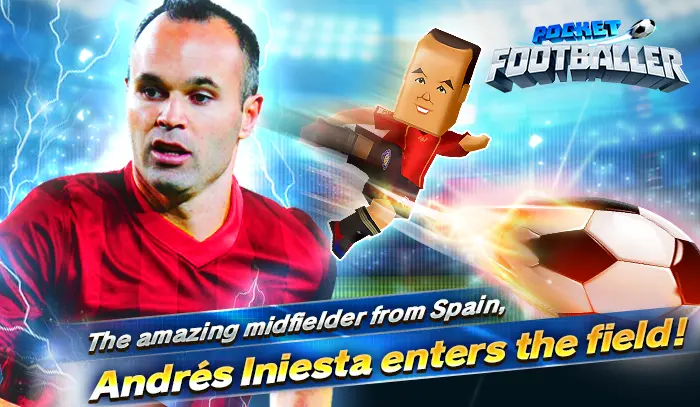 'POCKET FOOTBALLER' lets players from around the world join the league they want and team with other players. Through a chat system within the game, players have the opportunity to build the best strategy in order to win the several matches held every day. Thanks to the avatar creator, users can make any player who looks just like them or their favorite football player.
In order to mark the occasion, KAYAC Inc. is proud to announce the collaboration with the football star from Spain, Andrés Iniesta, who will appear in the game as a character.
Andrés Iniesta is famous around the world for his incredible skills as a midfielder. He is a player from the Spanish National Team and was nominated at the Ballon d'Or, FIFA's top award for players.
GENERAL INFO:
Supported on Android from ver. 4.0.3 and from iOS 7
GOOGLE PLAY STORE:
APPLE APP STORE: https://itunes.apple.com/jp/app/id982889922?ls=1&mt=8
Official Facebook page: https://www.facebook.com/pocketfootballer.en?ref=aymthomepagepanel
ABOUT THE COMPANY:
Established in 1998, KAYAC Inc. is a Japanese company who creates fun content for the web as well as several video games for smartphones. It is famous in Japan for its inventiveness and originality, as well as for deciding its employees' salaries by throwing dice every month!
KAYAC Inc. was awarded several times in the creative communications and advertising related fields at global events including the Cannes Lions International Festival of Creativity.
Find more info about KAYAC Inc. on the official website: http://www.kayac.com/en/