Every year on July 7, KAYAC holds a festive event "777 KAYAC★Festival."
This year, KAYAC's corporate website was fully revamped for the first time in three years.
The biggest feature is that viewers can choose their favorite theme from five designs.
Along with the launch of the new website, a video has been created. Watch the video and find out highlights of KAYAC's new website!
Design concept
To show the multiple aspects of KAYAC, the new website is comprised of five themes of Simple, Manga, Game, Tech, and Kamakura.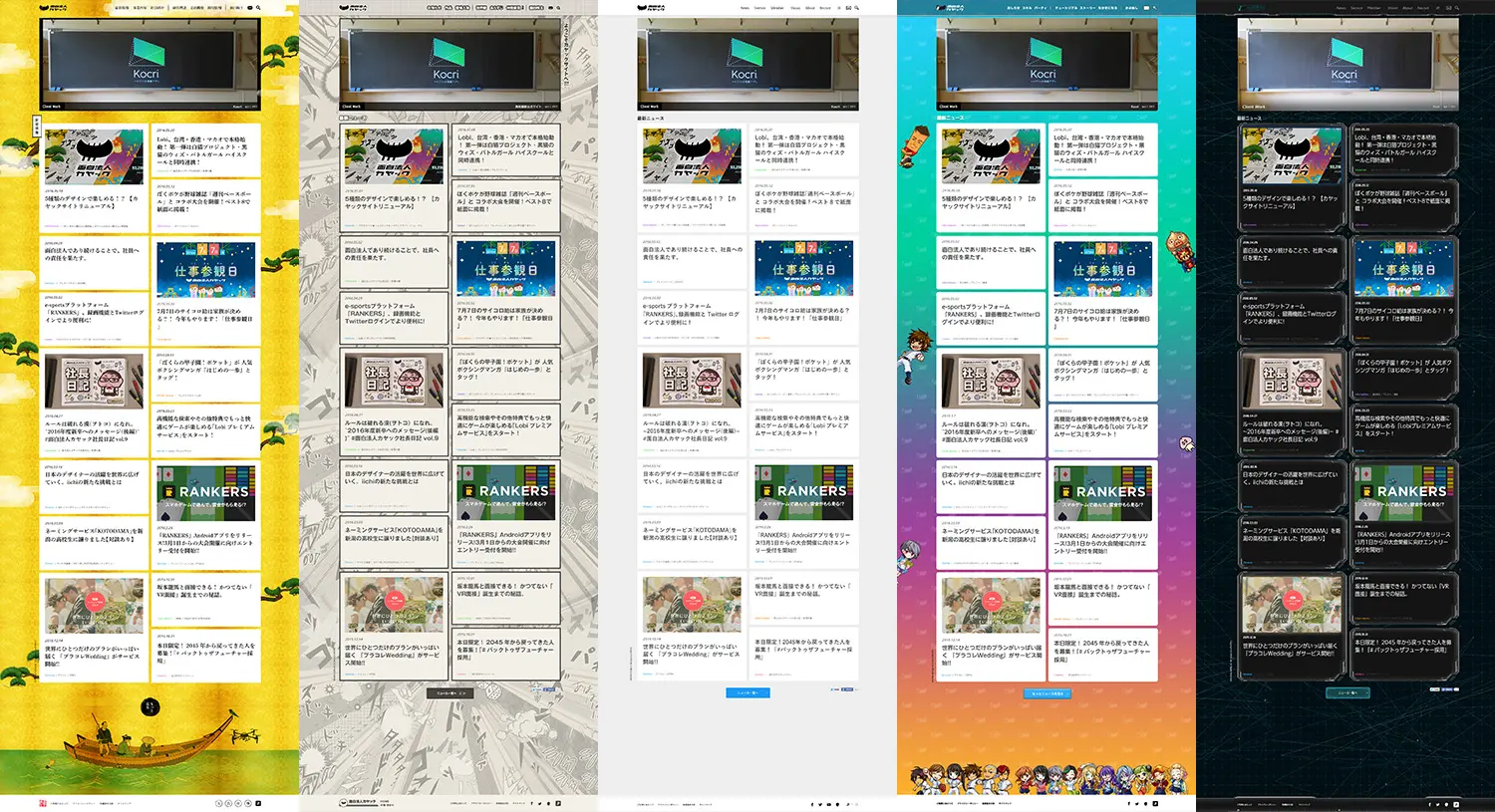 From left to right, 「Kamakura」「Manga」「Simple」「Game」「Tech」
With the Manga theme, for example, diverse kinds of onomatopoeia are shown such as "Logogogo…" when a mouse is placed over KAYAC logo, and "Sha-iin" on employees' page (Shain means "employee" in Japanese). In the Game theme, game effects such as lightening, flame, and coin are shown when a mouse is placed over major buttons. Select your favorite theme and enjoy our corporate site.
In the VISION page, Yanasawa, representative of KAYAC, which is celebrating its 18th anniversary on August 3, 2016, talks about corporate philosophy in three parts of "The Passion Behind "The Fun-Loving Corporation", " Our Philosophy "Create more creators" and "It's All About Brainstorms" In "10 management philosophies selected and explained by Yanasawa", as a philosophy geek, explains philosophies that he believes excellent. For the smartphone job application form, a chat-based UI has been introduced so that applicants can fill out the form in a simpler and more enjoyable manner.
Last but not least, please also visit the Fun-loving Enterprise President's Diary and read Yanasawa's article about KAYAC's new website.