Hana Yakiniku, world's first iPhone app to enjoy yakiniku
App to be released simultaneously with Hana Yakiniku Kit attachment for smartphones
Yakiniku Big Bang with all-you-can-eat yakiniku app without worrying about money, calories, bad breath!?
ChatPerf Inc. (head office: Minato-ku, Tokyo; CEO: Koki Tsubouchi) and KAYAC Inc. (head office: Kamakura-shi, Kanagawa; Representative Director: Daisuke Yanasawa) plan to start delivering on November 15, 2013 "Hana Yakiniku Kit," a jointly developed product that allows users to enjoy yakiniku on smartphones (Scentee device + three scents: short rib, beef tongue, steamed potato and butter), and release the iOS app "Hana Yakiniku" (free) on App Store on the same day. (Dates of shipment and release on App Store may be slightly earlier or later.)
URL of app introduction video: http://www.scentee.com/apps/hanayakiniku/
This is an entertainment app that works with Scentee (URL: www.scentee.com), world's first attachment for smartphones, tablets, and PCs that disperses scents. In this project, ChatPerf is in charge of developing and distributing the device and providing SDK while KAYAK is responsible for designing/creating the app.
Hana Yakiniku is a trendy app just in time for the unprecedented meat craze represented by the social yakiniku party called Nikukai, 1-person yakiniku shops, and meat-focused food theme parks. Through sense of smell, it directly works on users' brain, and allows them to fully enjoy yakiniku.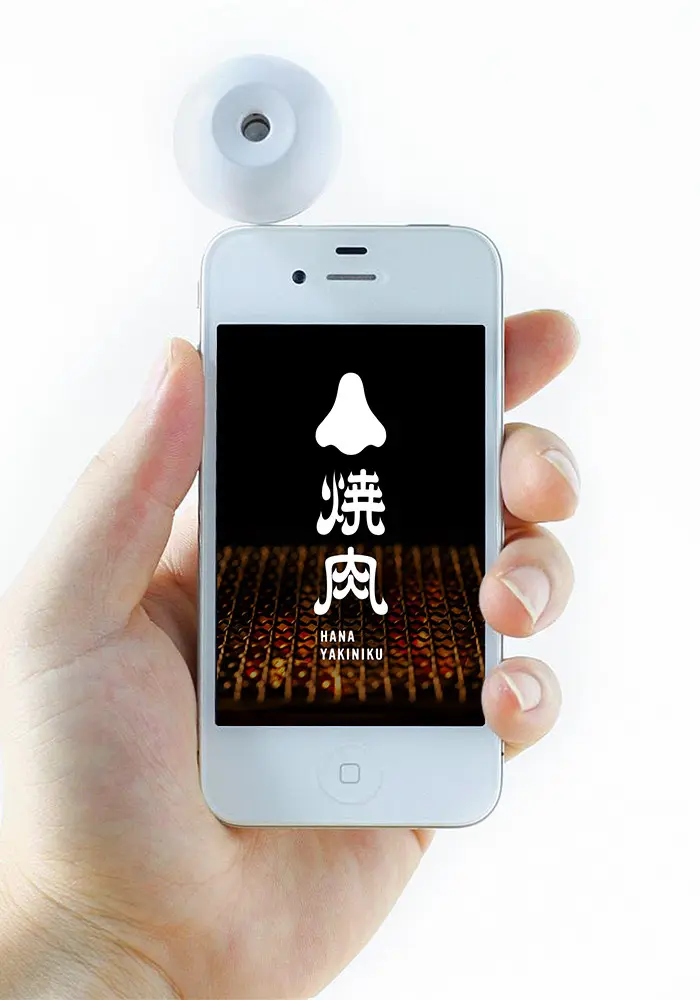 ■Features of Hana Yakiniku1. Scentee attached on iPhone (see below for compatibility*) disperses the scent of yakiniku.
It offers three types of scents: short rib, beef tongue, and steamed potato with butter.
It is also good for people who are on a diet, on a tight budget, or those who are worried about bad breath or stomach.
■Overview of Hana Yakiniku Kit
Price:
3,480 yen (without tax) (Scentee device + three scents: short rib, beef tongue, and steamed potato with butter)
Refillable cartridge of the set of three scents (total three scents) available for 1,000 yen (without tax)
Available at:
Amazon, company website (www.scentee.com)
iPhone app Hana Yakiniku will be available for free on App Store in Japan.
Compatibility
iPhone 4, 5, 5S, 5C, iPad 2, 3, mini (iOS6.1.4 or higher)
■Purpose and background of development
Designed to casually enjoy yakiniku on smartphones, this app was originally proposed by KAYAC's engineer and yakiniku freak at the "1st ChatPerf x crazy app Hackathon" idea competition event held by ChatPerf from February 23 to 24, 2013.
■How to use
Users only need to connect Scentee to the audio jack on iPhone and tap the button on the special app.
With simple operation, users can enjoy yakiniku through the nose to their hearts' content. We will further work to improve the app and enhance features, adding more types of meat.